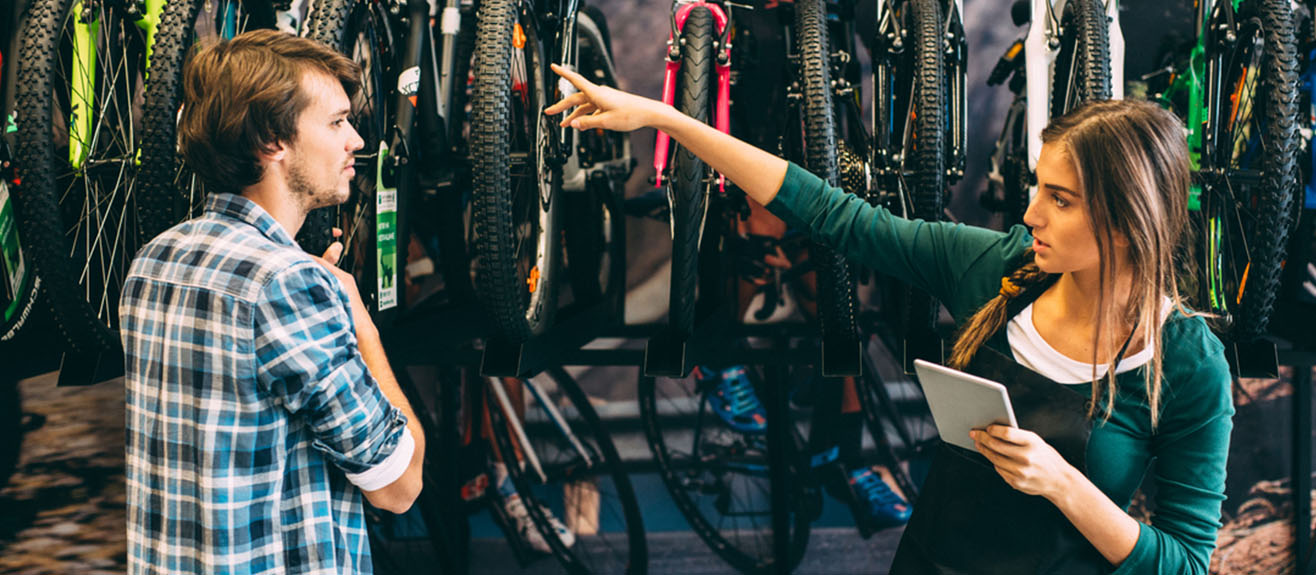 Are you new to cycling and don't know where to start? Never fear! Here's an outline of all of the available types of bikes on the market – think of this as your ultimate bicycle guide! 
Different Bikes For Different Activities!
At Rightbike we recommend that you select your bicycle depending on its intended use. i.e.
Will you be commuting?
Are you going to dress head to toe in lycra and attempt the land speed record?
Would you like to be able to use your bike on both tarmac and dirt tracks too?
Many people who are new to cycling will opt for a mountain bike, as it sounds like the most familiar to them! However, unless you plan on going mountain biking then it's overkill and a different type of bicycle might suit your needs better.
Read through our guide to the different types of bicycle below and see which one stands out as the right type of bike for you:-
Electric Bike: More commonly known as e-bikes, electric bikes feature power assistance to enable the rider to get to their destination without overly exerting themselves. e-Bikes can be broken into two main types; those that have throttle assisted motors (these feature a switch on the handlebar for you to turn on and off to vary the power), or those that are pedelecs/pedal assisted, where the motor does the thinking for you! Energy in = energy out. The harder you pedal, the more power the bike will give you back!) Besides the power-assist, essentially, e-bikes are mechanically the same as your standard bicycle, so consider all of the criteria you'd think about when selecting a 'normal' bicycle.
Road Racing Bike: Designed for going fast on smooth, paved roads. Mechanically designed to be long and low, making the most of aerodynamics.
Sportive / Endurance Road Bike: Whilst bike design has been led by racing bikes for many decades, manufacturers have recognised that not every rider wants to race! Sportive & endurance road bikes are designed for those who want to complete challenges in their own time, in the simple pursuit of happiness and health. You'll find the geometry of these bikes to be more 'relaxed', allowing the rider to sit upright and observe their surroundings. In most instances shock-dampening design features will be included to save the rider from fatigue. Electric and non-electric models are available.
Triathlon / Time Trial Bike: Designed as weapons against the wind, triathlon and TT bikes are usually manufactured from carbon fibre, and the geometry ensures minimal exposure to the front. A steep seat angle brings the rider forward, and an aerobar handlebar ensures their forward position. Aerodynamic efficiency is paramount, and as such, breaking on TT bikes is extremely difficult. These bikes are notoriously unstable because of the positioning, so we'd recommend them for professional riders only.
Audax / Randonneur Bike: Audax events are similar to sportifs, however they are slower paced and cover much greater distances (200 Km plus). Often described as light touring bicycles, audax/randonneur bikes are manufactured from more durable materials such as steel or titanium, feature robust componentry, and have load bearing capabilities.
Touring Bike: Designed to be loaded up and ridden for great distances, touring bikes geometry is similar to that of a sportive or audax bike whereby speed is not a factor, and comfort is the number one priority. Built from robust steel and usually featuring;  triple chainrings, thick and puncture resistant tyres, a high number of bottle cages, a frame mounted pump, and sometimes even spare spokes attached to the stays in case of breakages under the huge loads.
Cyclocross Bike: Cyclocross is a sport that combines a mixture of off-road cycling and cross-country terrain. Featuring slacker angles and a slightly longer wheelbase for stability, a higher bottom bracket for clearance over rough ground, and more frame clearance for bigger tyres.
All-Road / Gravel Road Bike: Used for touring, commuting, sportives, audax, cyclocross races, and more, just by changing your tyres to suit the terrain. The geometry is similar to a cyclocross bike, with a slightly lower bottom bracket and a longer wheelbase for enhanced long-distance stability. Due to the versatile nature of this bike, it makes it a great choice for beginners who aren't sure what type of terrain they want to be riding in, as the tyres can easily be changed to suit the conditions!
Singlespeed / Fixed Gear Bike: The allure of a single speed bike rests in it's simple design. One gear means less maintenance, higher durability, and that can go wrong! However, this can add stress both to the drivetrain and to your knees.
Track Bike: Built exclusively for high speed racing around purpose built aerodromes, a track bike features a much higher saddle, dropped handlebars and no brakes! These are designed for serious speed and not for comfort.
Porteur: A porteur is a great bike for short distances and zipping around the city. Popular for its lightweight and sophisticated appearance, practical load-carrying capabilities, and durability.
Flat Bar Road Bike: Built for commuters in a hurry! A flat bar road bike has the speed and efficiency of a racing bike, yet the geometry is more upright to enable the rider to clearly see their way through the traffic.
Hybrid: Anything that falls between a mountain bike and a road bike generally falls into this category. Designed with a very upright position, the one thing that appears to unite this style of bike is the riser handlebars, however, configurations of these bikes offer different frame materials, wheel and tyre sizes, some with suspension and some without.
Commuter: Designed to get their rider to work with minimal fuss! Commuter bikes are manufactured from tough durable materials, have thick puncture-protected tyres and usually feature a pannier rack.
Dutch Bike: The laid back geometry of these bikes ensures almost anyone could ride them! Featuring great load-bearing capabilities, built-in locking mechanisms and fully-enclosed drivetrains. Incredibly practical around town – though not so great (and not advised) for embarking upon hilly rides.
Folding Bike: Popular with train commuters, as it's the only type of bicycle you can board a busy train during peak times with! Whilst they may look strange with their tiny wheels, if well designed, they are surprisingly nice to ride.
Downhill Bike: Featuring everything you'd expect to see on a good quality mountain bike, and a whole lot more, downhill bikes are designed to soak up everything a rider can throw at them! With 180-200mm+ of suspension travel front and rear, and 26" wheels to provide manoeuvrability, strength and more, due to the engineering and clever features this bike technology doesn't come cheap. For specialist use only.
All Mountain / Enduro Bike: Enduro races have a greater proportion of (timed) downhill sections to uphill, and cross country sections. As such, the design of a mountain / enduro bike is lighter than that of a downhill bike and is manufactured from a carbon or aluminium frame, but features a lot of the same brake and suspension technology.
Trail Bike: This is the type of bike that people would usually call 'mountain', however, with less travel than an enduro bike and suspension designed for ascents and descents, this is a great all-rounder and suited to most types of cyclists.
Cross Country Bike: The road bike of the mountain bike world! The cross country frames of these types of bikes are quite rigid, feature less suspension travel and larger than average tyres (usually 29"). Built to be responsive and fast, these bikes are designed to be ridden at breakneck speeds by competent cyclists.
Fat Bike: A new genre of bike designed for riding over snow, ice or beaches, featuring enormous tyres suitable for any conceivable terrain.
Expedition Bike: Built to go great distances, (4000 Km plus), expedition bikes are essentially a heavier duty touring bike and feature internal hub gears, mechanical disc brakes and rigid steel frames – and generally require less maintenance.
Hardcore Hardtail: Whilst we've noticed the popularity of this type of bike waning, certain enthusiasts will demand a hardtail for zero fuss, no-frills fun! A niche breed of trail bike, hardcore hardtails feature long-travel front suspension, as well as great shock absorption and power transfer.
Dirt Jump Bike: Featuring only the most robust frames, components and 24-26" mountain bike wheels, riders of dirt jump bikes have no qualms in catapulting themselves over 30ft in the air. They really are designed to fly!
BMX: An abbreviation for 'bicycle motocross' the popularity of BMX's has spread to the street, skate parks, dirt jumps and more! Due to the different genres, designs of BMX's can differ, however, common factors are; smaller frames and wheels (usually 20-24") and very low saddles, giving the rider plenty of room to flex their legs to absorb impact.
Trials Bike: Not for the faint hearted! Trial bikes aren't designed for you to sit down and relax on, they're very much reserved for extreme sports enthusiasts. In appearance, similar to your BMX, yet featuring a very low seat post or saddle (if any), and smaller wheels. In trial biking, riders ride on a trail filled with obstacles and try to negotiate each without setting his/her feet or hands on the ground.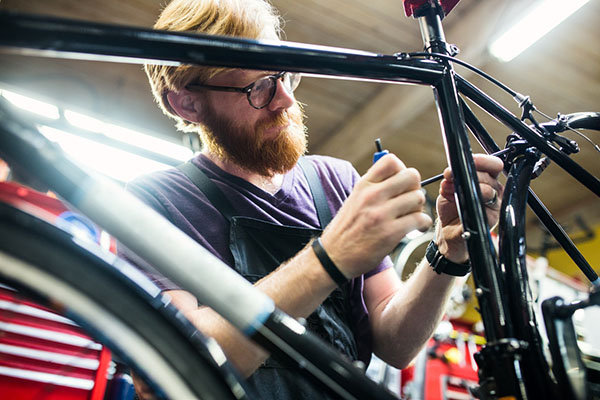 Bike Sizing – Making Sure Your Bike Fits You
One size does not fit all in the biking world! There are a few key factors that will affect the bike frame size you choose; such as, your height, ape index, stand over height, and the type of bike you select. Refer to our blog here to help you choose the right type of bike for you.
Now you've decided on the right type of bike for you, (or at least narrowed it down a bit!), why not pop into our shop and take a peek at some? We can get you professionally measured, ensure you have the correct bike frame size, and get yours ordered for you, if we don't have the style you like in stock.